We added PBF Logistics LP (PBFX) to the Hidden Dividend Stocks Plus portfolio back on 1/22/18. Since then, it has produced a healthy return of 10%, with a mild $.65 price gain and $1.47 in distributions. The distributions comprise ~69% of PBFX's total return, which is a big part of the HDS Plus strategy for income investors. PBFX's total return is more than 2X the return of the S&P 500, including S&P price gains and theoretical dividends:

Profile:
PBFX is the yieldco arm of PBF Energy (PBF) – both companies are managed by the same executives, and PBF owns 100% of the GP of PBFX and 44% of the LP interests of PBFX.
PBF is one of the largest independent petroleum refiners and suppliers of unbranded transportation fuels, heating oil, petrochemical feedstocks, lubricants, and other petroleum products in the US.
It's the fourth-largest refiner and the second most complex independent refiner in the US. It produces gasoline, ultra-low-sulfur diesel, heating oil, diesel fuel, jet fuel, lubricants, petrochemicals, and asphalt, as well as unbranded transportation fuels, petrochemical feedstocks, blending components, and other petroleum products. PBF Energy Inc. was founded in 2008 and is based in Parsippany, New Jersey.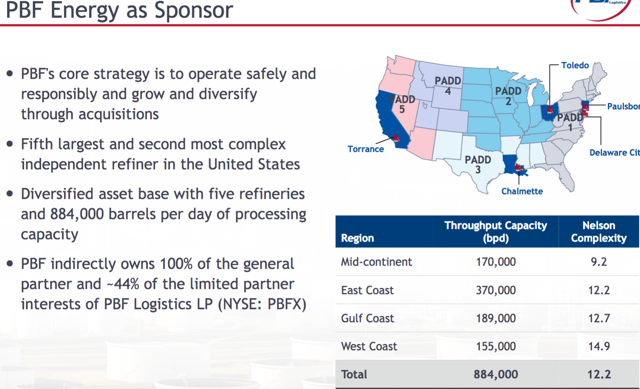 (Source: PBFX site)
PBFX's core earnings come from its long-term contracts with PBF, which have an average of seven to 10 years remaining.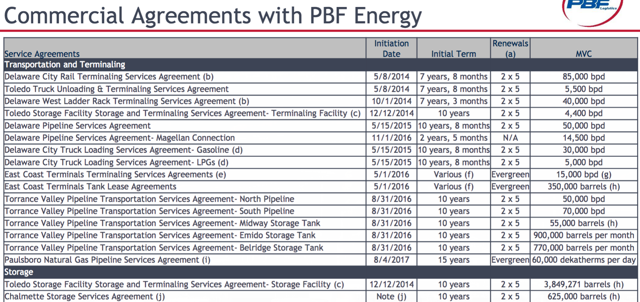 (Source: PBFX site)
PBFX's Terminaling operations comprised ~43% of total revenues in Q1 -2 '18, followed by Pipelines, with 29%, Other services, with ~18%, and Storage, with ~11%.

(Source: Q2 '18 10Q)
Distributions:
Adding in the Q2 '18 payout raise to $.495 gives PBFX a track record of 16 straight distribution hikes.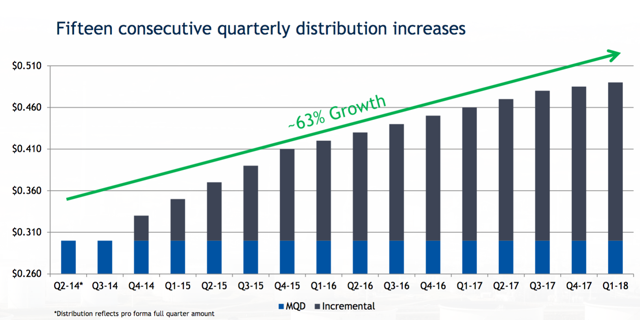 (Source: PBFX site)
Like most energy-related LPs, PBFX pays in a Feb/May/Aug/Nov. cycle. It should go ex-dividend again in early November.
Investors get a K-1 at tax time.
At $21.85, PBFX yields 9.06% – its current payout is 65% above its targeted minimum quarterly distribution.

One negative trend we're watching is PBFX's declining coverage factor, which went from 1.4X to 1.10 over the past four quarters. Management is targeting a 1.15X long-term coverage ratio. As you'll see in the Growth Projects section, they have several projects which should eventually get them to that plateau.

IDRs:
PBFX's general partner collects Incentive Distribution Rights monies via PBF LLC. In Q1-2 '18, this amount was $6.37M, ~12.7% of the total distributions. This strikes us as a relatively low percent, vs. many of the other IDR splits we've seen in the MLP universe.

(Source: PBFX Q2 '18 10Q)
Earnings:
This table of PBFX's quarterly year-over-year growth illustrates the negative trend in DCF, which declined in Q1 and Q2 '18 vs. the previous year's quarters, even though quarterly revenue has kept growing.
EBITDA has been roughly flat in Q1-2 '18, while net income, which includes non-cash depreciation and amortization, has declined.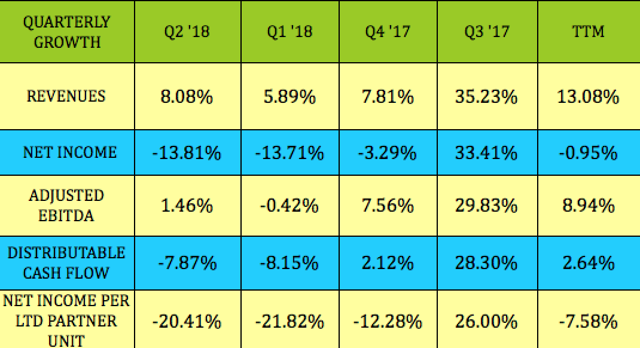 The biggest hit to net income in 2018 though, has been interest expense, which rose $4.5M vs. Q1-2 '17. PBFX'S operating income/interest expense coverage factor for Q1-2 '18 was still a healthy 3.57X, although it declined from the more robust 4.71X seen in Q1-2 '17.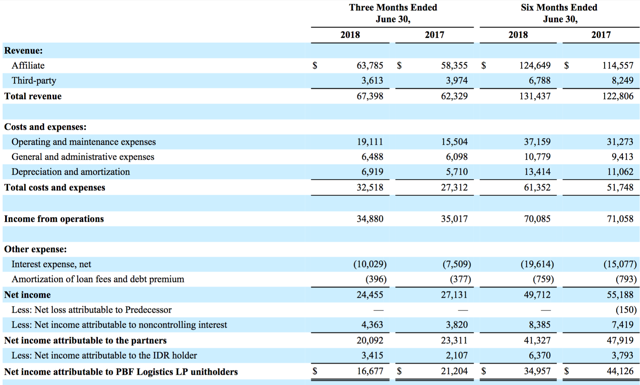 (Source: PBFX Q2 '18 10Q)
Sequentially, Q2 '18 had gains in revenue and DCF vs. Q1 '18, while EBITDA was flat, and net income declined 5%.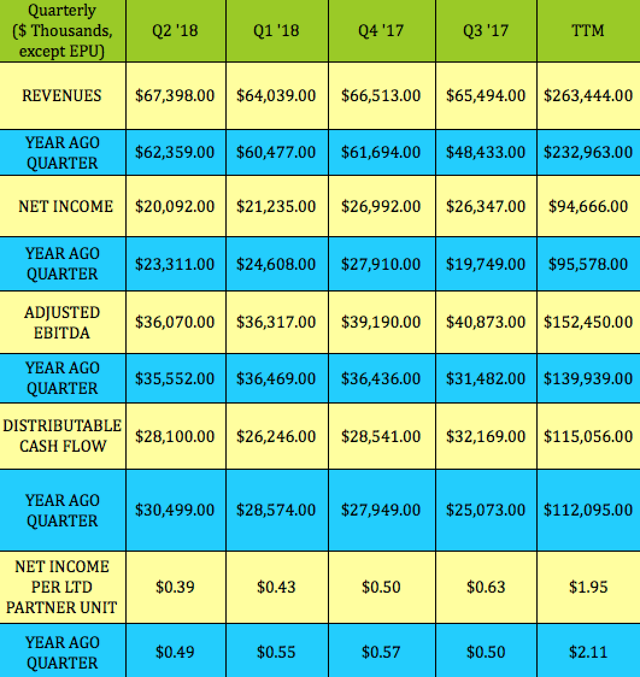 Net income/unit declined in the last three quarters due to unit growth of 61.66%, as management converted PBF's 15.89M subordinated units into common units, and also issued new units to help fund growth projects. Coverage/unit fell 5.5%, from 1.27X to 1.2X, as the units and distribution hikes caused total distributions to rise by 12.5%.
Management also did a direct public offering in July of 1,775,750 common units with certain funds managed by Tortoise Capital Advisors L.L.C. for gross proceeds of approximately $35 million. The proceeds of the offering are expected to be used for general partnership purposes including partial funding of growth transactions for the Partnership. The offering closed on July 30, 2018.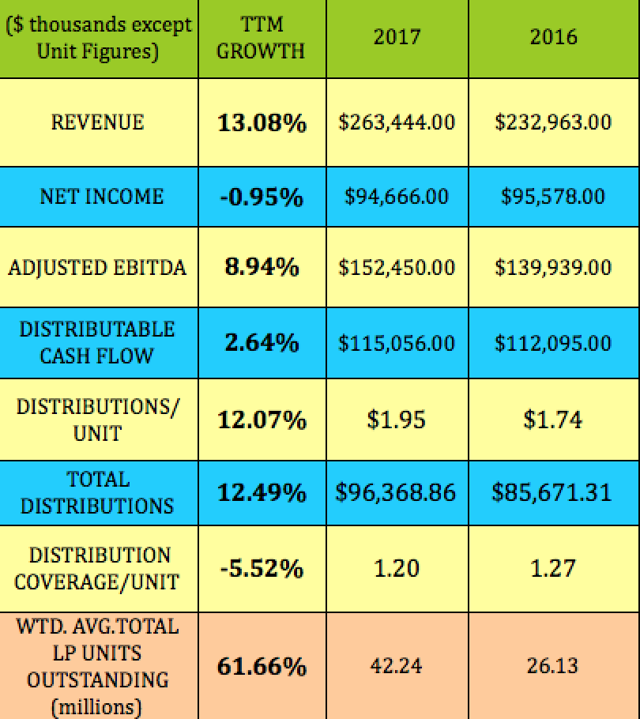 Guidance:
Management upped its full-year 2018 EBITDA guidance from $151M to a range of $155 – $160M. They also capped the unit count at 42.5M, just slightly higher than the 42.24M units outstanding at 6/30/18, so there shouldn't be any further big dilution in 2018.
As they earned ~$72M in Q1-2 '18, this implies higher EBITDA in the second half of 2018, in a range of $83M to $88M, which also should increase their distribution coverage going forward.
Management offered this glimpse into PBFX's future on the Q2 '18 earnings call:
In 2019, we expect to add the East Coast Storage Assets, complete projects at the Knoxville Terminals and the full year of drop-downs should generate an incremental $10 million to $15 million. In 2020, the project work will be complete and EBITDA should increase by another $5 million. Beginning in 2021, we expect to achieve full run-rate EBITDA of $34 million, assuming all transactions are consummated and projects are completed as planned."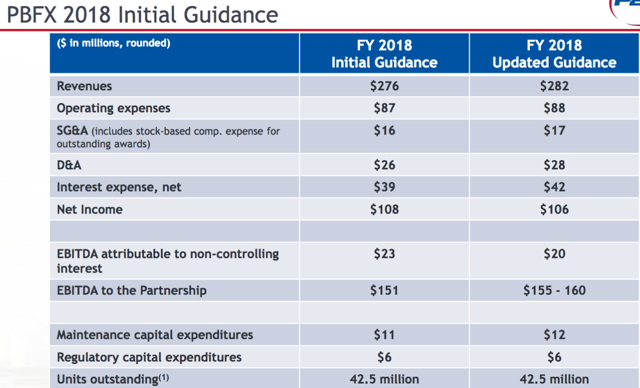 (Source: PBFX site)
Risks:
Dilution and Debt Leverage – This always is something to watch out for in LPs. Since they pay out the lion's share of their cash flow, management must usually go to the equity and capital markets to fund growth.
A potential conflict of interest stems from the fact that PBFX shares management with PBF, so there may be a temptation to charge PBFX too high of a price for dropdown assets, resulting in overburdening it with debt. This can be solved with a conflicts committee reviewing prospective dropdown deals. So far, it hasn't been a problem.
Growth Projects:
PBFX has had a mix of EBITDA growth since PBFX's IPO, with 26% coming from organic gains, and 74% coming from dropdown assets from PBF.
Management is targeting a hefty $100M in organic EBITDA growth over the next four years. With the trailing EBITDA of $152M, that $100M target is significant.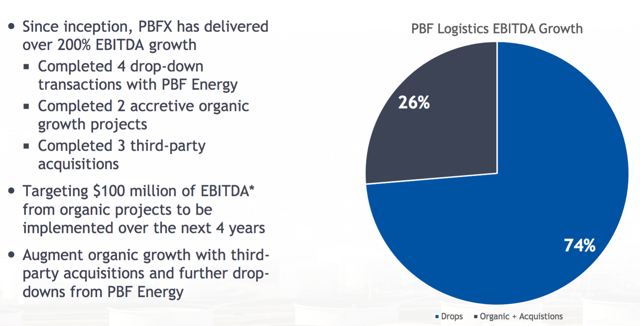 (Source: PBFX site)
On April 16, 2018, the Partnership's wholly-owned subsidiary, PBF Logistics Products Terminals LLC, completed the purchase of two refined product terminals located in Knoxville, Tennessee, which include product tanks, pipeline connections to the Colonial and Plantation pipeline systems and truck loading facilities (the "Knoxville Terminals") from Cummins Terminals, Inc.
On July 17, 2018, The Partnership announced that it has entered into an agreement to purchase CPI Operations LLC, whose assets include a storage facility and other idled assets located on the Delaware River near Paulsboro, New Jersey (the "East Coast Storage Assets").
Following closing, the Partnership expects to invest approximately $8.5 million over the next two years in projects to enhance facility capabilities and expects to achieve run-rate EBITDA of $15.5 million at the end of 2020. The transaction is expected to close in the fourth quarter of 2018.
The acquisition of the East Coast Storage Assets, combined together with the Knoxville Terminals, which closed on July 31, 2018, management expects to achieve annualized run-rate EBITDA of approximately $34M for a total investment of approximately $243 million, inclusive of related capital projects.
Analysts' Estimates and Price Targets:
PBFX has received multiple upward earnings estimate revisions from analysts in the past month.


(Source: Yahoo Finance)
At $21.85, it's 5% below the lowest price target of $23.00 and 8.84% beneath the average $23.97 price target:

Valuations:
Compared to other high yield midstream firms we cover, PBFX has a similar price/DCF and EV/EBITDA, whereas it has a much higher price/book. Its yield is a bit lower than average, but still an attractive 9.06% and its trailing coverage is in line with the group average.

Financials:
Management has deleveraged over the past four quarters, thanks to its EBITDA growth. Net Debt/EBITDA stood at 3.83X as of 6/30/18, vs. 4.55X a year earlier.
Mgt. targets a long-term net debt/EBITDA leverage ratio of 3x to 4x.
Compared to group averages, PBFX has a higher ROA, ROE, current ratio, interest coverage, and operating margin, but its debt/equity is much higher.

Debt and Liquidity:
As of June 30, 2018, the Partnership had approximately $291.7 million of liquidity, including approximately $19.7 million in cash and cash equivalents, and access to approximately $272.0 million under its revolving credit facility.
Management increased PBFX's five-year revolving credit facility from $360 million to $500 million and extended its maturity date. Commitments under the facility have increased. The credit facility will be used for acquisitions and other general partnership purposes.

(Source: PBFX Q2 '18 10Q)
In late July, PBFX also did a direct public offering of 1,775,750 common units with certain funds managed by Tortoise Capital Advisors L.L.C. for gross proceeds of approximately $35M. The proceeds of the offering are expected to be used for general partnership purposes including partial funding of growth transactions for the Partnership.
Summary:
We rate PBFX a buy. Given the long-range nature of its growth projects, there may be speed bumps along the way – permit/construction lags, etc. However, it's tied to a strong sponsor, PBF, which should continue to benefit from its geographic diversity, and its strong positioning in refining complexity capabilities, for which it's rated second of all US independent refiners.
All tables furnished by Hidden Dividend Stocks Plus unless otherwise noted.
CLARIFICATION: We have two investing services. Our legacy service, DoubleDividendStocks.com, has focused on selling options on dividend stocks since 2009.
Disclaimer: This article was written for informational purposes only and is not intended as personal investment advice. Please practice due diligence before investing in any investment vehicle mentioned in this article.
Disclosure: I am/we are long PBFX.
I wrote this article myself, and it expresses my own opinions. I am not receiving compensation for it (other than from Seeking Alpha). I have no business relationship with any company whose stock is mentioned in this article.
Related Posts: