The U.S. Census Bureau categorizes Baby Boomers as individuals born between 1946 and 1964, and the effects of having to care for such a large group will be felt in many areas.
By 2029, when the last round of Boomers reaches retirement age, the number of Americans 65 or older will climb to more than 71 million, up from about 41 million in 2011, a 73 percent increase, according to Census Bureau estimates.
As Ventas CEO Debra Cafaro points out, "we know that the silver wave of the over 75 population will experience a net gain of 70 million individuals between 2020 and 2035, boarding well for our business and giving us confidence in the future while we manage through current operating condition."
According to CBRE's 2018 U.S. Real Estate Market Outlook, the aging U.S. population will be a significant tailwind for medical office demand in the years ahead.
"We expect demand for medical office buildings to grow, fueled by a shift away from the delivery of patient services on hospital campuses, the adoption of new technology, the aging population, healthcare job growth, tight market conditions and the relative recession-resistance of these properties," said Andrea Cross, Americas head of office research, CBRE.
The medical office market has performed well in recent years, registering a lower peak vacancy rate than traditional office properties during the 2008 recession and showing a steady decline in vacancy during the recovery. Net absorption has outpaced new supply in 24 of the past 29 quarters, with particularly large imbalances since 2015.
Gross asking rents have been stable, reflecting consistent user demand and long lease terms that limit tenant turnover. New medical space completions have also been low relative to pre-recession levels, and the amount of space under construction has decreased slightly from the Q2 2016 peak. Chris Bodnar, vice chairman, Healthcare, CBRE Capital Markets, explains:
"Investment trends reflect strong medical-office market fundamentals and a broadening pool of interested investors. While uncertainty about healthcare policy poses a risk to the medical office market, favorable demographic trends point to continued strong healthcare demand, regardless of any policy changes."
The core business of healthcare is inherently driven by demand for patient care, providing a stable foundation to support investment in the sector. The need for more facilities and services to manage the chronic illnesses of this aging population will be a major driver for growth.
Despite the controversy around these and future changes to reimbursement, healthcare is a required service that will continue to need real estate assets, and REITs provide an excellent vehicle for healthcare providers to become more efficient by partnering with "healthy" capitalized companies.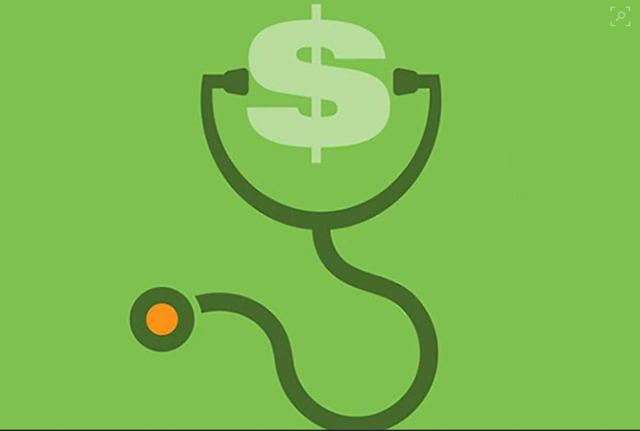 The Healthiest Healthcare REITs
So, shoulders back, chin up, deep breath… here's a handful of hearty and healthy healthcare REITs:
HEALTHY HEALTHCARE REIT #1: Ventas Inc. (NYSE:VTR)
The Big WHY: Champion, diversified healthcare REIT with deliberately constructed portfolio of more than 1,200 assets
Feathers in its Cap: Focused on high-quality real estate well located in attractive markets (with high barriers to entry). Partners with top operators in each asset class – sector leaders, well-positioned for growth. Properties in U.S., Canada, United Kingdom. Portfolio: Senior Housing 62%, Medical Office 20%, Life Science 7%, Health Systems 5%, IRFs/LTACs 2%, Skilled Nursing 1%.
Downsides: Though skilled nursing triple net is 1% of NOI, VTR experienced continued decline in Genesis's (NYSE:GEN) performance given ongoing industry SNF headwinds.
Performance YTD: 1.2%.
Alpha Insider Management Update: The company's investments across the healthcare real estate spectrum provide sustainable, growing cash flow during strong economic cycles and resilience during downturns.
Bottom Line: VTR has the absolutely best credit profile and balance sheet. Its net debt-to-EBITDA ratio now stands at an excellent 5.3x and debt-to-assets is also robust at 36%. Substantial dry powder ($3.1 billion on credit facility) for any M&A. Successful history of dividend performance, and growth profile, current yield 5.38%. Payout ratio 78% on FFO. STRONG BUY (as in "buy, and hold onto this one!")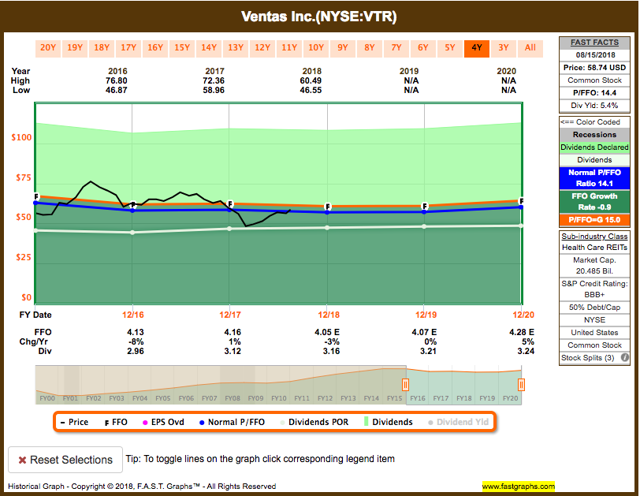 HEALTHY HEALTHCARE REIT #2: LTC Properties, Inc. (NYSE:LTC)
The Big WHY: Triple net leases primarily in senior housing and healthcare properties via joint ventures, sale-leaseback transactions, mortgage financing, preferred equity, mezzanine lending.
Feathers in its Cap: In business over 25 years. Enterprise value as of June 30 over $2.1 billion. Holds 199 investments in nearly balanced capital allocation: assisted living communities (102, includes independent living & memory care communities), skilled nursing centers (96), and behavioral healthcare hospital. Located in 28 states. Funds From Operations (FFO): $29.6 million for Q2-18, compared with $31.4 million Q2-17 (per diluted common share $0.75 and $0.79).
Downsides: Decreases in Q2-18 results mostly due to defaulted master lease on cash basis in third quarter 2017 and reduction in rental income related to properties sold the past year.
Performance YTD: 6.2%.
Alpha Insider Management Update: Sold portfolio of six assisted living and memory care communities at a net gain of $48.3 million. Completed acquisition of two memory care communities in Texas for $25.2 million with 10-year master lease and 7.25% initial cash yield. Entered into partnership for properties in Medford, OR, and opened new facility in Illinois. New unsecured credit agreement has the opportunity to increase to $1.0 billion.
Bottom Line: Rated as a STRONG BUY. Dividend payout ratio of 76%, yielding 5.09%.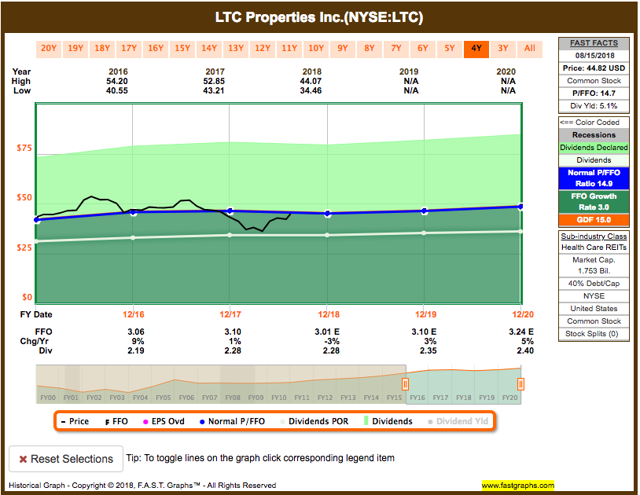 HEALTHY HEALTHCARE REIT #3: Healthcare Trust of America, Inc. (NYSE:HTA)
The Big WHY: Largest dedicated owner and operator of 450 medical office buildings (MOBs) in the U.S. (33 states), across more than 24 million square feet. Over $7 billion invested.
Feathers in its Cap: Provides real estate infrastructure for integrated delivery of healthcare services in highly desirable locations, targeted to build critical mass in 20-25 leading gateway markets generally with leading university and medical institutions, to support a strong, long-term demand for quality medical office space. Q2-18 FFO increased 55.8% to $84.4 million (Q2-17 comparison), or per diluted share +33.3%, to $0.40. During Q2-18, new and renewed leases on approximately 1.0 million square feet (4.2% of portfolio). Tenant retention rate of 86%. Occupancy rate of 90.9%. The company just increased its dividend by 1.6% (payable October 5).
Downsides: MOB is out of favor with institutions, yet sector rotation can provide attractive opportunities for intelligent REIT investors.
Performance YTD: -1.0%.
Alpha Insider Management Update: ("BBB" balance sheet) Announced new development in key gateway market (Miami), and commenced two redevelopments, including on-campus MOB in Raleigh, NC. Sell agreements: Greenville, South Carolina MOB portfolio, $294.3 million. Total leverage 31.8% (debt less cash and cash equivalents to total capitalization). Total liquidity end of quarter $1.0 billion. During Q2, paid down $96.0 million on $286.0 million promissory note in Duke acquisition.
Bottom Line: Founded in 2006 and NYSE-listed in 2012, HTA's returns have outperformed those of the S&P 500 and US REIT indices. 75% payout ratio, dividend 4.28%. STRONG BUY.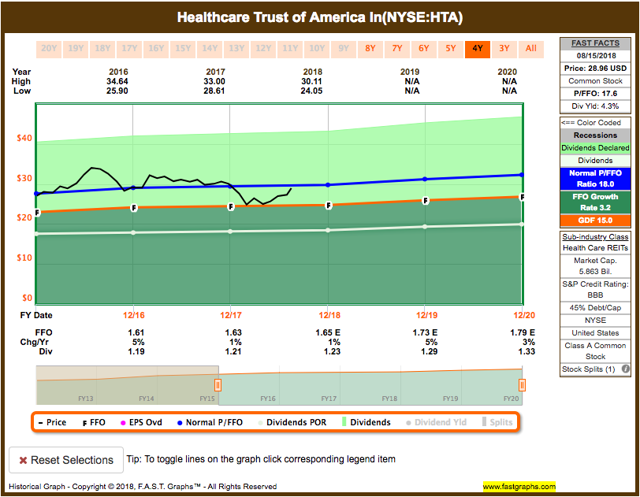 HEALTHY HEALTHCARE REIT #4: Welltower Inc. (NYSE:WELL)
The Big WHY: The operating environment for seniors housing remains challenging, but the benefit of owning a premier major urban market-focused portfolio is attractive. WELL's operating portfolio continues to show the resiliency expected from the premier operators in top markets and submarkets.
Feathers in its Cap: The REIT's Q2-18 closing balance sheet position was strong with $215 million of cash and equivalents and $2.5 billion of capacity under the primary unsecured credit facility. The leverage metrics were at robust levels, with net debt-to-adjusted EBITDA of 5.4x and net debt-to-undepreciated book capitalization ratio of 35.6%, while the adjusted fixed charge cover ratio remained strong at 3.5x. WELL increased the normalized FFO range to $3.99-4.06 per share from $3.95-4.05 per share prior.
Downsides: QCP, and partnering with ProMedica is a pretty unique transaction that provides integration and complexity risk.
Performance YTD: 5.9%.
Alpha Insider Management Update: Strong balance sheet with investment grade credit ratings from Moody's (Baa1), Standard & Poor's (BBB+), and Fitch (BBB+).
Bottom Line: 5.33% dividend yield, and we are updating from a HOLD to a BUY.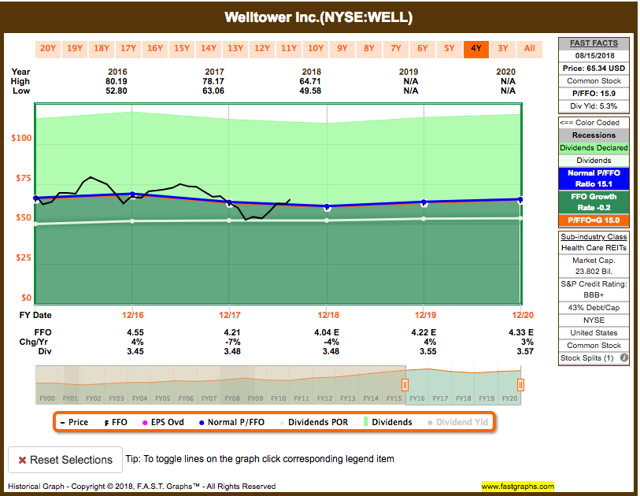 HEALTHY HEALTHCARE REIT #5: Physicians Realty Trust (NYSE:DOC)
The Big WHY: The most important factor in accessing the quality of a medical office building is the health system affiliation, credit quality to tenant, age of the building, occupancy, market share as a tenant, average remaining lease term, size of the building, and the client services and mix of services in the facility. Around 88% of DOC's growth space is on campus and/or affiliated with a healthcare system.
Feathers in its Cap: DOC's disciplined approach to investments continues to improve portfolio metrics, narrowing the gap with competitors at an aggressive pace. For example, the company has just 4.4% of leases expiring through 2022 (the peer average is 11.8%).
Downsides: Same as HTA – institutional investors have rotated out of the MOB sector. Also, DOC has yet to increase its dividend.
Performance YTD: -1.4%.
Alpha Insider Management Update: The REIT's balance sheet metrics remain strong, with debt-to-firm value of 34% and net debt-to-EBITDA of 5.5x. DOC is extremely well-positioned in the rising rate environment. 99% of debt is at a fixed interest rate or is completely hedged, with no significant maturities until 2023.
Bottom Line: DOC's dividend yields 5.36%, and it's a STRONG BUY.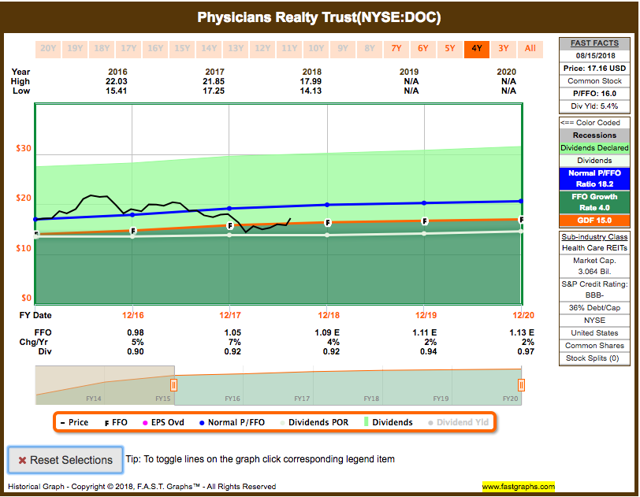 (Source: F.A.S.T. Graphs)
Note: We will be providing a detailed SWAN (sleep well at night) research report in the upcoming (September) edition of the Forbes Real Estate Investor.
Note: Brad Thomas is a Wall Street writer, and that means he is not always right with his predictions or recommendations. That also applies to his grammar. Please excuse any typos, and be assured that he will do his best to correct any errors, if they are overlooked.
Finally, this article is free, and the sole purpose for writing it is to assist with research, while also providing a forum for second-level thinking. If you have not followed him, please take five seconds and click his name above (top of the page).
Each week, Brad provides Marketplace subscribers with actionable REIT news, including (1) Friday afternoon subscriber calls, (2) Weekender updates, (3) Google portfolios, (4) Real-time alerts, (5) Early AM REIT news, (6) chat rooms, (7) the monthly newsletter, and (8) earnings results in Google Sheets.
Marketplace subscribers have access to a wide range of services, including weekly property sector updates and weekly Buy/Sell picks. We provide most all research to marketplace subscribers, and we also provide a "weekender" report and a "motivational Monday" report. We stream relevant real-time REIT news so that you can stay informed.
All of our portfolios are updated daily, and subscribers have access to all of the tools via Google Sheets. REITs should be part of your daily diet, and we would like to help you construct an Intelligent REIT portfolio, utilizing our portfolio modeling strategies. Brad reminds all subscribers and prospective subscribers that "the safest dividend is the one that's just been raised."
Disclosure: I am/we are long ACC, AVB, BHR, BPY, BRX, BXMT, CCI, CHCT, CIO, CLDT, CONE, CORR, CTRE, CXP, CUBE, DEA, DLR, DOC, EPR, EQIX, ESS, EXR, FRT, GEO, GMRE, GPT, HASI, HT, HTA, INN, IRET, IRM, JCAP, KIM, KREF, KRG, LADR, LAND, LMRK, LTC, MNR, NNN, NXRT, O, OFC, OHI, OUT, PEB, PEI, PK, PSB, PTTTS, QTS, REG, RHP, ROIC, SBRA, SKT, SPG, SRC, STAG, STOR, TCO, TRTX, UBA, UMH, UNIT, VER, VICI, VNO, VNQ, VTR, WPC.
I wrote this article myself, and it expresses my own opinions. I am not receiving compensation for it (other than from Seeking Alpha). I have no business relationship with any company whose stock is mentioned in this article.
Related Posts: