Introduction
Most of us are aware that the Canadian cannabis market is one of the most popular discussions between investors. The cannabis sector has roller coastered in value, and several companies have emerged as the top dogs of the group.
The growth of the cannabis industry has led to the emergence of several small (but up and coming) ancillary cannabis stocks. There are a handful of ancillary cannabis stocks that have seen significant revenue growth, where many of these companies do not grow or distribute cannabis products.
Today's North Channel Investments article will discuss Radient Technologies (OTC:RDDTF), an ancillary cannabis stock that does not grow cannabis, but has excellent growth prospects. This article will provide a business overview, a recent financial statement summary, and major growth prospects of the company. Due to the fact this company is small, it is key to note that its future is highly speculative. Investors should do additional research before making any major decisions.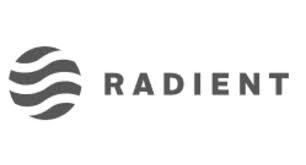 Business Overview
Founded in 2001, Radient Technologies is a manufacturer of natural ingredients that are used in the food, beverage, nutrition, pharmaceuticals and active care industries. Radient is a Canadian company based out of Edmonton, Alberta, and has a growing list of global companies that it distributes its products to. Founded in 2001, Radient uses patented "Microwave Assisted Processing" (MAP), which allows the company to extract higher levels of product than in comparison to other natural methods. While the company is still extremely small (market cap hovering around $300m), Radient has received moderate attention from its recent agreement to work with Aurora Cannabis (OTCQX:ACBFF), which is a large cannabis manufacturer/distributor in Canada. Radient offers processes that extract cannabinoids including cannabidiol (CBD) and tetrahydrocannabinol (THC) from cannabis biomass.
Recent Financial Performance
Radient continues to see steady growth in its revenues. The company released its 2017 3Q results ending on Dec 31, 2017. When comparing 2017's third quarter to 2016, revenues grew by 19.4%. This growth has been consistent when comparing the last 8 quarters of revenues. Revenues in 2017 were $484,485 compared to $227,173 that was generated in 2016. This is revenue growth of 213% year-over-year.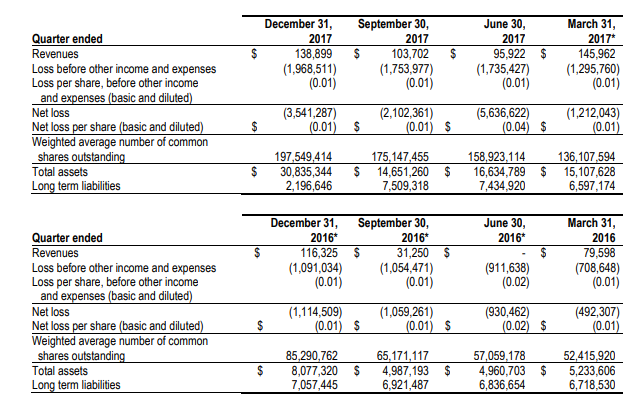 Source: Radient Technologies – 3Q MD&A
Unfortunately, Radient has seen significant increases in its expenses as it ramps up its operations. In the last quarter, the company posted a loss of almost $2 million. While this may be an item of concern for investors, I expect the company to begin performing exceptionally better over the next 6 quarters due to its growth prospects.
It is also key to note that Radient has high liquidity and increased cash on hand. Cash and restricted cash on hand increased by $13.9 million in the quarter from the proceeds of options and warrants. This increased cash will help Radient as it looks to expand its operations further.
Growth Prospects
There are several growth prospects that investors should be excited about. In the third-quarter MD&A, Radient announced that enhancements to its Edmonton Facility would occur in first and second quarter of the 2018 calendar year. These enhancements include enhanced security systems on the storage vault, and modifications to some of its equipment to be able to handle large amounts of biomass. The company also announced it was acquiring a 20,000 sq ft manufacturing facility in Edmonton. This facility is close to the Aurora Sky facility, and will be able to process 5 metric tonnes of biomass per day. There is also adjacent land that could be used to add an additional 80,000 sq ft building.
The company also expects that its ACMPR license to produce cannabis extracts will be approved within the second/third quarter of 2018. Once it receives the license, Radient will begin to work with Aurora Cannabis at its Aurora Sky facility in Edmonton, where the company will begin to extract from Aurora's harvested cannabis. This 800,000 sq ft facility will produce over 100,000 kg per year. While it is tough to estimate Radient's revenues from this facility, it is fair to assume that they will be significant based on the output of cannabis that the facility will produce.
Aurora Cannabis has also announced the intent to construct another 1.2 million sq ft facility in Medicine Hat, Alberta. This facility (called Aurora Sun) is expected to produce over 150,000 kg per year. This will bring Aurora's total production to roughly 430,000 kg per year once this facility is completed.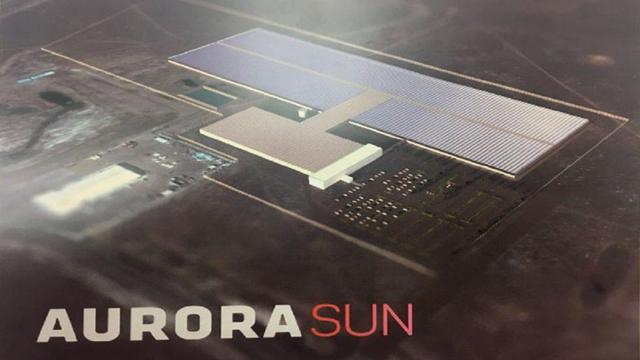 While this is definitely excellent news for Aurora Cannabis shareholders, it is also very beneficial to Radient shareholders as well. In many of the press releases I have read about Aurora Sun, there is little to no mention of Radient's involvement in the project/operation. Based on the fact that Radient's services will be used at the Aurora Sky facility, I wanted to confirm that this would be the same case for Aurora Sun. I sent an email to Denis Taschuk, Radient's CEO and president. I asked him if we could expect Radient to deploy services at Aurora Sun, where I got the following response:
"We fully expect that we will be working with Aurora on Sun's production when it comes online."
Aurora's continued growth will also be very beneficial to Radient. Based on Aurora's history of acquiring various cannabis companies and the continued expansion of its facilities across the globe, Radient should continue to see growth in its services/revenues as well. It is key to note that the "first planting in the Medicine Hat facility is not expected until the first half of 2019, with completion slated for the second half of the year" (Source: Global News). This means that this will not effect Radient's revenues until the 2019 fiscal year. Nonetheless, this is a significant future growth prospect for the company.
Radient has also signed several master service agreements within the last 12 months. The most recent was an agreement with Bonify, a private medical cannabis supplier based out of Manitoba. Bonify has over 1 million square feet of potential productive capacity at its facility. Bonify will use Radient's services as it requires processing for large quantities of cannabis oils. Radient's technology has demonstrated throughputs of over 1,500 kg of biomass per day, which will aid Bonify as it plans to sell its cannabis oils internationally. In Dec 2017, Radient signed an agreement with Terra Life Sciences, a pharmaceutical manufacturer. All of these contracts will drastically increase Radient's revenues in 2018 and beyond.
Radient recently received its ACMPR license to conduct research and develop products related to cannabis, THC, CBD, and cannabis resin at its Edmonton facility. Once the company receives the extraction license, its revenues will increase dramatically as it can begin to use its technology with Aurora and other large cannabis companies. While it is very tough to nail down an estimate of the company's revenues (or expenses) once its license comes in, I would expect revenues to grow dramatically based on Aurora's large cannabis output and the partnerships it has made with Bonify and Terra Life Sciences.
Final Thoughts
While Radient's revenues are small, they are growing and the company's product is efficient. Its technology produces high-yield extracted product at low costs, which is very attractive to cannabis companies. The service agreements with Terra Life Sciences and Bonify should be large revenue generators, especially when the company's license is approved. Radient's agreement with Aurora should also not be forgotten, as Aurora owns just under 20% of the Radient's outstanding shares. Radient's revenues will also see a significant spike once the company begins its services at the Aurora Sky facility near the end of 2018. The news of the Aurora Sun facility should also add significant revenues once it is fully operational in 2019.
Currently, it is tough to estimate the revenue that Radient will receive from its services with Aurora, Bonify, and Terra Life Sciences. Until we receive more information, based on the size of the Aurora Sky facility and the deals it has made with Bonify and Terra, it is assumed that the revenue growth will be fairly significant. We will have a better idea of what to expect for revenue from Aurora Sun once we see the growth in revenues from Aurora Sky.
Radient's technology also has extensive patents that protect its technology. Its product/services will be in high demand as cannabis companies look to find more cost efficient ways to extract product. Based on the key agreements and its technology, I expect Radient to see significant revenue growth over the next 6 quarters, primarily after it receives its final ACMPR license.
Based on Radient's lack of recent significant financial success, it is tough to determine when the best time to purchase this stock is. Radient has a seen a gradual decrease in its stock value over the last few months.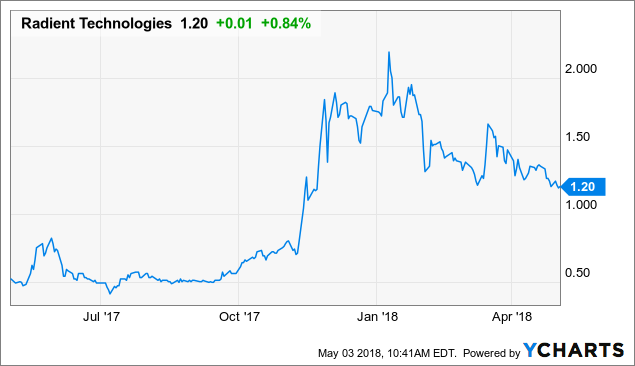 In the short term, based on high speculation, it may be a better idea to wait and see Radient's results once the company receives its ACMPR license. Waiting to see the 4Q financial statements (which should be released in early June) is also a smart idea.
We have a small holding in Radient, where we believe that in the short term, the stock is not going to impress shareholders. We feel that based on the growth prospects, this stock will see long-term success that will continue to drive its stock upward once the approval of its license. We believe that the efficient technology and the deals the company has made with several key cannabis producers will surely grow its revenues significantly over the next few years, and the demand for its product/services will grow. Overall, while now may not be the time to purchase this stock, it is highly recommended that you keep this ancillary cannabis company on your radar!
Note: This is not financial advice. It is important to understand that all financial investments carry risks. Investors are expected to seek financial advice from professionals before making any investment decisions.
Disclosure: I am/we are long RDDTF.
I wrote this article myself, and it expresses my own opinions. I am not receiving compensation for it (other than from Seeking Alpha). I have no business relationship with any company whose stock is mentioned in this article.
Editor's Note: This article discusses one or more securities that do not trade on a major U.S. exchange. Please be aware of the risks associated with these stocks.
Related Posts: