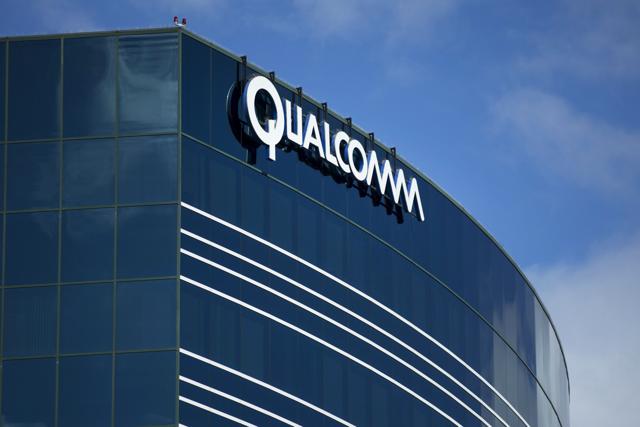 Demise Of The Hostile Bid
As the acrid smell of cordite fades from the battlefield of the Broadcom Ltd. (AVGO) attempt to acquire Qualcomm Inc. (QCOM), what remains for investors is to digest the implications of what transpired, and form a view of the future for Qualcomm.
This author's view that the circumstances surrounding Broadcom's hostile bid for Qualcomm had evolved to comprise too many variables of uncertain outcome to justify continuing to hold the stock was published on Seeking Alpha On February 5, 2018 in an article titled "Qualcomm: A Tipping Point".
Among those potentially disruptive factors to which Qualcomm was subject were an enormous tax charge, large regulatory fines, a disappointing company forecast, customer resistance to a takeover of the company, and the rising cost of the NXP acquisition. This view has now been vindicated by subsequent events, with Qualcomm's stock exhibiting a downward trend since that time. Qualcomm's stock price has dropped 11.72% since January 22, 2018.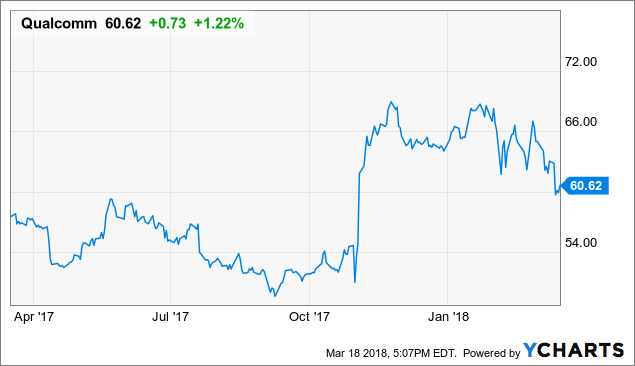 Ties To China
In the end, Broadcom's hostile bid was defeated by a heady mix of politics, national security, and trade protectionism, a cocktail which developed in the final days of the bid. From before his election President Donald Trump propounded trade protectionism and a confrontational approach to trade with China. He implemented those views upon ascending to the presidency by appointing Peter Navarro, a polarizing protectionist on trade with China, to be director of trade and industrial policy as well as director of the White House national trade council.
Where did politics play a direct role in determining the outcome of Broadcom's attempt to acquire Qualcomm? Qualcomm made much of Broadcom's ties to China, while ironically itself having extensive connections with that nation. Qualcomm has both joint ventures and partnerships in China. The company has also assisted Chinese enterprises, including Huawei, in penetrating international markets. Additionally, Qualcomm has been fined by the U.S. government for breaching the U.S. Foreign Corrupt Practices Act.
With Broadcom's relocation to the U.S. imminent, and as a growing number of institutional shareholders like T. Rowe Price Group Inc. submitted early votes for Broadcom's slate of directors, a desperate Qualcomm board, after outspending Broadcom on Washington lobbying by 100 to 1 at $8.3 million, filed a voluntary complaint with the Committee on Foreign Investment in the U.S.
Jurisdiction Slipping Away
That committee would not normally consider a takeover transaction until a legal acquisition agreement had been entered into, but it chose to do so on this occasion. In just another few days, by which time Broadcom was scheduled to complete its relocation to the U.S., CFIUS would no longer have had jurisdiction over the transaction. Using the CFIUS complaint as an entree, shortly thereafter Trump issued an order citing national security and nixing the deal even before the committee's investigation was complete.
As a strategic matter, Broadcom should clearly have effected their redomicile to the U.S. before launching a bid for Qualcomm. This would have negated national security objections and sidelined CFIUS.
For investors then, the outcome is clearly a political determination and one which is not reflective of the economics or valuation of Qualcomm's business. Nonetheless the episode has brought into sharp focus dissatisfaction with Qualcomm management on the part of many of the stock's institutional shareholders. Together institutional investors own 78.71% of Qualcomm's outstanding stock as of the most recent 13F filings, and it became apparent over time that there was broad support among them for Broadcom's bid.
Wish For Management Change
The reasons for this dissatisfaction are quite distinct. Since FY 2014 Qualcomm's annual sales revenue has fallen by an average of 5% annually, from $26.49 billion in 2014 to $22.29 billion in 2017, as net income dropped from $7.54 billion to $2.47 billion in the same period. In that time, diluted EPS was down to $1.66 from $4.40.
With portfolio managers having mark-to-market targets to meet, these numbers explain why there is a strong wish for management change being harbored by a majority of institutional holders of Qualcomm. The company is to hold its rescheduled annual shareholder meeting on March 23, and more institutional shareholder dissatisfaction with the board is expected to surface at that time.
Despite these concerns many portfolio managers have stayed in the stock because of the market expansion promised by 5G, due in late 2018 after international wireless standards for the network were agreed in December. There was also hope of an early resolution of the legal dispute with Apple Inc. (AAPL) over patent licensing fees, the issue producing customer withholding and regulatory fines which have been the main cause of Qualcomm's revenue decline. However the majority of institutional investors would have liked to have seen those landmarks achieved through a takeover by Broadcom, rather than at the hands of the existing Qualcomm board.
A Literary Twist
An anomaly in that landscape is the pending acquisition by Qualcomm of NXP Semiconductors N.V. (NXPI). NXP, as the biggest supplier of processors to the car industry, promises desirable diversification for Qualcomm into markets other than smartphones, such as rapidly growing IoT and auto applications, at a time when the smartphone market is softening and sales of high-end phones are falling. In the waning days of Broadcom's bid for Qualcomm though, it became increasingly obvious that, as a result of the limitations on Broadcom's financing ability in the corporate bond market, Broadcom upon acquiring Qualcomm would seek to nullify the NXP deal or, if that were no longer legally feasible, spin off NXP at the earliest opportunity.
Now that Qualcomm has the opportunity to complete the NXP acquisition unhindered, the deal should render improved financial fundamentals for Qualcomm. To use the same financial metrics as employed to describe Qualcomm earlier, in contrast NXP's annual sales revenue since FY 2014 has grown from $5.65 billion to $9.26 billion in 2017, an increase of nearly 64%. In that time net income has climbed from $539 million to $2.22 billion. Diluted EPS is up to $6.41 from $2.17 in 2014.
In a twist of literary proportions though, Qualcomm, having complained to the U.S. government and the world in general regarding Broadcom's ties with China, and having gained the benefit of a political decision to terminate that company's bid on the grounds of national security with regard to China, now stands at the mercy of Chinese regulators concerning the necessary final approval to facilitate consummation of the $127.50 a share NXP transaction. Without Chinese approval, the NXP deal is unlikely to go through. It remains to be seen whether China through its Ministry of Commerce wishes to retaliate in political kind and administer a demarche to Qualcomm which would set the company back considerably.
Dramatic Irony At Play
This concern is set in a wider context which itself does not favor a positive outcome for the NXP deal. Trump blocked the $1.3 billion bid of Canyon Bridge Capital Partners Inc.'s, a firm with Chinese ties, for Lattice Semiconductor Corp. (LSCC) in line with CFIUS recommendations. Also, in February the SEC nixed a proposed $20 billion purchase of the Chicago Stock Exchange by a group that included Chinese buyers.
As to 5G, the value of the market for 5G infrastructure is projected to be $2.86 billion by the year 2020, reaching $33.72 Billion by 2026, with a CAGR of 50.9% from 2020 to 2026. These figures cover rising demand for mobile data services, network software implementation, growing machine-to-machine (M2M) industrial communication, and increasing demand for high speed and large network coverage. Qualcomm is looking to profit from 5G with its Snapdragon product line. Yet here again there is dramatic irony at play, as reflected in the following quote.
China will dominate 5G thanks to its political ambition to lead technology development, the inexorable rise of local manufacturer Huawei and the breakneck speed at which consumers have upgraded to 4G connections."
— Marina Koytcheva, VP Forecasting, CCS Insight
If China, with the largest semiconductor market in the world, now seeks to be obstructive to Qualcomm's profiting from the innovation of 5G because of the demise of the Broadcom deal and other transactions to which it had connections, that fact will come to haunt Qualcomm and will then seriously reflect on the board's handling of the Broadcom bid.
As regards resolution of the dispute with Apple, there are no indications at present that a settlement agreement is close at hand, leaving the prospect of a long and tortuous legal battle. Apple is seeking $1 billion from Qualcomm, and the related withholding by Apple and its contract manufacturers of patent license fees has already seriously depleted Qualcomm's annual revenue, with the apparent probability of this continuing to be the case for some time to come.
Conclusion
Looking across all three major issues for Qualcomm going forward, namely the NXP acquisition, 5G launch, and the legal dispute with Apple, there are substantial concerns and uncertainties hanging over each. Added to these considerations is the fact that, as recently evidenced, a majority of Qualcomm's institutional holders are frustrated with the level of earnings and share price performance achieved by the current board over the past four years. For these reasons this author continues to advocate exiting Qualcomm to await more propitious times to hold the stock.
Consider following this author. To receive immediate alerts upon publication of future articles by this author, please click on either of the "Follow" buttons at the top and bottom of this page, and then select "Real Time Alerts." To review previously published articles by The Structure Of Price, click on the author's name at the top of this page.
Disclosure: I/we have no positions in any stocks mentioned, and no plans to initiate any positions within the next 72 hours.
I wrote this article myself, and it expresses my own opinions. I am not receiving compensation for it (other than from Seeking Alpha). I have no business relationship with any company whose stock is mentioned in this article.
Related Posts: